yorkolderpeoplesassembly@outlook.com
A letter from Jim Cannon, Yopa Chair
Wishing a Merry Christmas and a Happy New Year to you All!
December 2023
Dear Members and Friends,
Our Winter Newsletter is now being distributed – please find a copy on our website. Thank you for feedback; we welcome comments and contributions.
Our Annual General Meeting (AGM) is the main item on the front page alongside a report on the York 50+ Festival and the International Day of Older People. Our thanks go to all those who put in so much effort to make events like these successful.
Our next Open meeting is on Monday 15th January 2024 at 2pm at Friends Meeting House. Kallum Taylor is the recently appointed Executive Officer of York Neighbours and he will be telling us how they provide a helping hand to reduce loneliness, tackle isolation, and support independence for people aged over 65 in our city. Lucy Fieldhouse is the Project Lead for Social Prescribers in York and will be coming to update us on the range of activities they help with.
Both of these topics are about helping those in greatest need so if you want to find out more for either yourself or somebody else, come along and join in. Bring a friend and ask your questions or set out your views. Refreshments will be available.
In 2024, we have changed the cycle of Open meetings and the full set of dates is as follows:
15th January; 18th March; 20th May; 15th July; 16th September; 21st October (AGM) and 18th November. Book these dates in your diary now.
We agreed to change the membership year to April to March. Therefore membership subscriptions for 2024 will be due from 1st April and remain at only £5 per member (£10 for couples).
During the last year we have switched banks to Lloyds Bank.  It is enormously helpful to us if people can pay by Standing Order (SO). For those who already do so then please change your standing order to our new bank account and to April rather than January. Let us know if you need help in setting up a standing order.
More details are set out below.
The Age Friendly York Citizens Group is open to all older people in York and details are available at AgeFriendlyYork@york.gov.uk. The Group meets on the first Thursday of each month at West Offices from 10 – 11.30am with the next 2 meetings on 7th December and then 1st February after the Christmas break. – all are welcome.
Subscription Information for 2024
Previously anyone who had consented to receive information from YOPA has been classified as a Member. In accordance with the Constitution a Member is defined as someone who has paid an annual subscription. Currently YOPA has 276 individuals who have consented to receive information from us but not all of whom have paid a subscription.
At the AGM, it was agreed that a new classification would be introduced called a Supporter.
Going forward the term Member will be used for an individual who has paid the annual subscription and the term Supporter will be used for the rest.
Members will have the right to vote at a General Meeting, whilst Supporters will not.
What this means for you
Everyone who is currently on our database will remain as either a Member or Supporter, unless you let us know that you wish to be removed.
The benefits of belonging to YOPA include –
Regular Open meetings for you and your friends at which matters relating to older people in York are covered/talked about/discussed
4 Newsletters a year with articles of interest to older people
Information Fairs with many stands of local older people's organisations
Annual 50+ Festival with dozens of events across the City ranging from exercise and fitness to local history, music and gardening
During 2023 we held public meetings while we spent a lot of time working with York Council and others to maintain our visibility and continue to register the needs of older people.
Please consider paying by Standing Order to improve our efficiency. Our new bank account details are as follows: –
Account Name:  York Older People's Assembly
Bank:  Lloyds Bank
Sort Code:  30-99-50
Account Number:  77997668
Please note it is ESSENTIAL to ask your Bank to quote your full name on the instructions from them to our Bank. If you have any queries, please phone the office, or call our Treasurer Shirley Reed on 01759-372993.
We welcome donations and several members add a donation to their subscription.
Gift Aid
We can also claim Gift Aid from the government for those who pay income or capital gains tax. If this applies to you, please let us know and we can send you a form which will allow us to claim an extra 25% on your subscription and donations.
We hope that you will choose to continue to be a Member of YOPA and look forward to seeing you at one of our future events.
Jim Cannon
Chair, York Older People's Assembly , Email: yopachair@outlook.com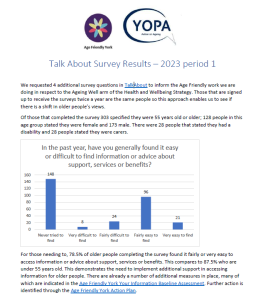 Contact us
If you are an older person and interested in learning more about the work of YOPA and perhaps becoming a member, browse this website, send us an email, or come to one of our Open Meetings.


St Sampson's Centre, Church Street
YORK YO1 8BE
Working for older people in York. YOPA aims to:
represent the views of older people in York to decision makers locally and nationally.

Inform older people about services that are available.

Identify where needs are not being met.