Ageing Without Children (AWOC)
Ageing Without Children (AWOC)
By 2030, 2 million people are predicted to be over 65 without adult children, according to a 2014 report. This represents a huge demographic shift: approximately a quarter of people will get older without ever having had children. It is astonishing that such a shift in society has been almost completely ignored in ageing debates. So why has this issue lacked debate?
We believe it is for a number of reasons. First, Society on the whole remains ageist. While sexism, racism and homophobia are deemed unacceptable, derogatory comments and assumptions about older people pass by without remark. Older people are seen as a burden on society, lacking value or importance. The topic of older people and loneliness has received huge coverage in the press and there have been many comment pieces asking why is it that older people are so lonely? And why has society let this happen? Abuse of older people has been widely covered by the media from the Mid Staffordshire hospital scandal and Panorama to the BBC show Protecting our Parents, there has been a stream of reports highlighting appalling treatment of particularly frail and vulnerable older people.
So is it really a surprise that people fear ageing and worry about being ignored and badly treated? A common response we hear from people on the issue of ageing without children is:: "Oh, I will just kill myself" (at the stage of being old and frail). Obviously people are joking, but it says a lot about how little faith people have of a good old age in this country that killing themselves seems like a better option.
The default assumption of health and social care policy has been that older people will have children to fill the gap between what people need and what they can get help with. With more than 90% of councils only providing help to people with critical and substantial needs, the unspoken fall-back position is that their children will pick up the slack. While that may be the case for the current generation of older people, it is less true for baby boomers and significantly less true for generation X (people born between 1964 and 1985). However, not one political party has picked up on this, which is worrying as the implications for society as a whole are enormous.
There are still massive taboos that exist around being a childless adult, whether that childlessness was chosen or not. If we consider that there is not a single positive word in the English language to describe a woman without children (and not connected to children such as grandmother or aunt) past her childbearing years, you begin to see how deeply entrenched in our culture this goes. Most people have no idea what to say to a childless woman which, when you consider it is 1:5 women born in the 1960s and possibly 1:4 born in the 1970s, is pretty odd. For men, there are no statistics kept by the Office for National Statistics on fatherhood, which is a story in itself.
At Ageing Without Children (AWOC), we believe it is simply not possible to push the issue of ageing without children aside any longer. It is important to do more research, open up these taboos through honest dialogue and work towards finding solutions for people ageing without children. It is time for the government to realise that this issue is not going away and to start putting strategies in place to create a new future for our ageing population.
We need to stop talking in ageist terms and actually consider the value to our economy and culture of a positive, practical, realistic and humane attitude towards ageing. We are the first generations to have the privilege of growing old together in such numbers: let us not make it some kind of disaster.
AWOC has been set up with the aim of doing four things: to carry out further research into some of the common preconceptions about people ageing without children; to give people ageing without children a safe space to discuss their feelings; to work with people ageing without children and organisations across the spectrum to identify solutions; and to ensure that the policy issues associated with ageing without children feature in ageing discussions.
Finally, we know that not everyone who has children gets care and support from them either. Family life is complex. We hope that by improving things for people ageing without children, we will improve things for all older people, parents or not.
This article was co-authored by Jody Day, founder of Gateway Women; Mervyn Eastman, chair of Positive Ageing in London; Robin Hadley who is studying for a PhD exploring the lives of involuntarily childless older men; and Kirsty Woodard, a consultant and trainer with 20 years experience of working in the ageing field. Together they have founded Ageing Without Children.
We have our own local AWOC York group which has been meeting monthly since January 2016 with speakers focusing on the needs and interests of people ageing without children. We zoomed during Covid-19 restrictions but are now running hybrid meetings in central York from 14 July 21. We will be continuing with our weekly socials on Zoom on Thursday mornings at 11am hosted by AWOC York Coordinator, Sue Lister 01904 488870. All welcome – the door is open! You can find out more at www.awocyork.org.uk.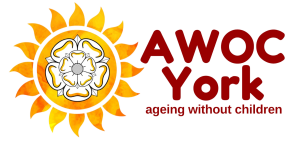 Unit 24, SPARK:YORK, 17-21 Piccadilly
YORK YO1 9PB
Working for older people in York. YOPA aims to:
represent the views of older people in York to decision makers locally and nationally.

Inform older people about services that are available.

Identify where needs are not being met.